Leif siegt beim Kriterium in Bendigo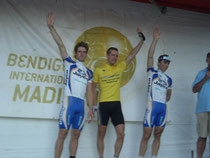 Leif sicherte sich die ersten drei von vier Sprintwertungen und stand bereits 10 Runden vor Schluss als Sieger der Sprintwertungen fest. Bereits 3 Runden vor Schluss attackierte Cameron Meyer vom Team Garmin alleine und konnte sich folglich absetzen. Doch auf der Schlussrunde wurde er eingeholt und Leif konnte den Sprint des Feldes gewinnen. Er verwies Glenn O´Shea und Leigh Howard auf die Plätze. Bei der anschließenden Siegerehrung wurde ihm sowohl das grüne Sprintertrikot als auch das gelbe Siegertrikot übergezogen.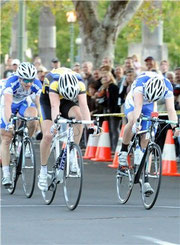 Criterium thriller
NATHAN DOLE
7/03/2009 7:36:00 AM
THE big guns fired in last night's start to the Bendigo International Madison carnival when the cycling stars raced in the RetireInvest criterium in the city's CBD.
After a dramatic 25-lap contest, Germany's Leif Lampater celebrated his first victory on the road outside of his homeland as he beat the madison's reigning champions, Eaglehawk's Glenn O'Shea and Geelong's Leigh Howard.
"To win this was cool,'' an elated Lampater said soon after being presented with the race winner's and sprint king jersey.
"It was a great race.''
Lampater also paid tribute to Marvulli's effort, especially on the final lap and leading into the sprint.
"We worked really well in all of the sprints.''
The top three in the criterium are three of the biggest drawcards for tomorrow night's McCaig Airconditioning and Fujitsu-backed 200-lap track classic.
Stars on Europe's six-day circuit, Lampater will team with Swiss ace Franco Marvulli in the madison.